Florida State's Alex Atkins hopes to find the right combination on his offensive line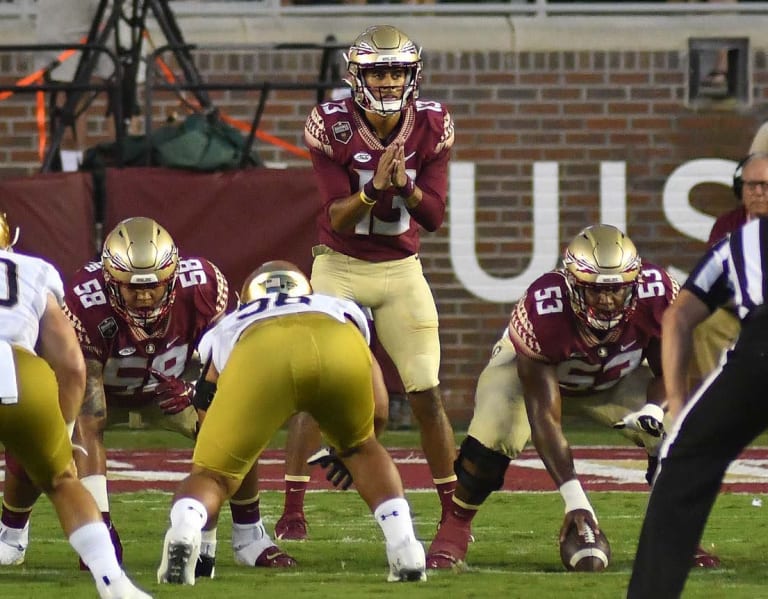 At the start of the 2021 season, Florida state football coaches were feeling pretty good with the five starters they had on the offensive line.
But this starting unit played exactly 25 snaps together.
Center Maurice Smith tried to overcome a first-half injury against Notre Dame, but has not seen the pitch since. Tackle Robert Scott was injured against Jacksonville State. And reserve goalie Dontae Lucas, who was inserted into the roster when Smith fell, is no longer with the squad.
Don't miss any of our great football stories. Get your FREE 30 day trial
Returning to preseason camp, FSU offensive coordinator Kenny Dillingham said the Seminoles had "seven or eight" linemen who could work in the rotation fairly seamlessly.
Just three weeks into the year, that depth has been significantly reduced, making the start of the season difficult for offensive line coach Alex Atkins.
"It's always a challenge, you know, when you have to spin some guys," he said. "But you have to play with what you have and you have to put them in the best possible position.
"We've had guys who play guard and tackle, but that's why we're doing cross-training.… You have to have guys who can play in multiple places."
Concrete example: Darius Washington.
The rookie redshirt has already played at three different places on the line in three games: left tackle, right tackle, and when Baveon Johnson came out of play on Saturday for a few games, center.
"We're trying to train about four or five guys," Atkins said. "He's been the most consistent with the snaps. It's the first thing that happens when you lose a cross – who can get the ball cleanly? Because nothing else matters… if he can block and the ball is over [the quarterback's] head, we're in trouble. "
Atkins said freshman Bryson Estes was also a possible option at center, but added that they hoped to get Smith back soon. They also hope to get Robert Scott back this week.
"They have more work to do today. I think the trend is in the right direction," FSU coach Mike Norvell said after practice on Wednesday. "But obviously we still have a few days to see how their body reacts. And we'll get a better idea as we get closer to match day."
In the meantime, the Seminoles have been trying to find the best combination of five players up front that can give them a shot at success on Saturday.
Many of those reps last week at Wake Forest went to Johnson in center and veteran Brady Scott in left tackle. This week in training, rookie Lloyd Willis in a red shirt got down to work with the first and second team attacking tackle.
"You see the confidence in him," Norvell said of Willis.
The Seminoles also appear to be taking a more in-depth look at Reserve Guardians Ira Henry and Zane Herring, among others.
"It depends on how the training week goes," said Atkins, when asked if they could give younger linemen a chance this Saturday against a visit to Louisville. He also said the Seminoles could change their approach to certain things on offense if they were to play even younger linemen.
"We have to put them in the best positions they can manage," said the OL coach in the second year of FSU. "I think that goes for all positions."
Atkins said he can't remember coaching another unit that has seen so many reshuffles so early in the season.
This made continuity and consistency difficult. Losing Smith and Scott was a big blow as they could be the two most talented linemen in the top five.
When it comes to developing his offensive line as a whole, Atkins said he's seen growth across the board, although it hasn't always been evident on game days.
He said his players have gotten to the point where they can do everything right in the boardroom, on the training ground, in individual drills, in team drills, in two-minute drills and so on. following.
This week, he challenges them again to postpone him to the game.
"You only have one chance on Saturday to get it right," Atkins said. "This time. You must be right then. Now is the time to show yourself."
——————————
Share this story with other Florida State football fans on the Tribal Council