Donald Trump compares New York tax evasion charges to a 'communist dictatorship'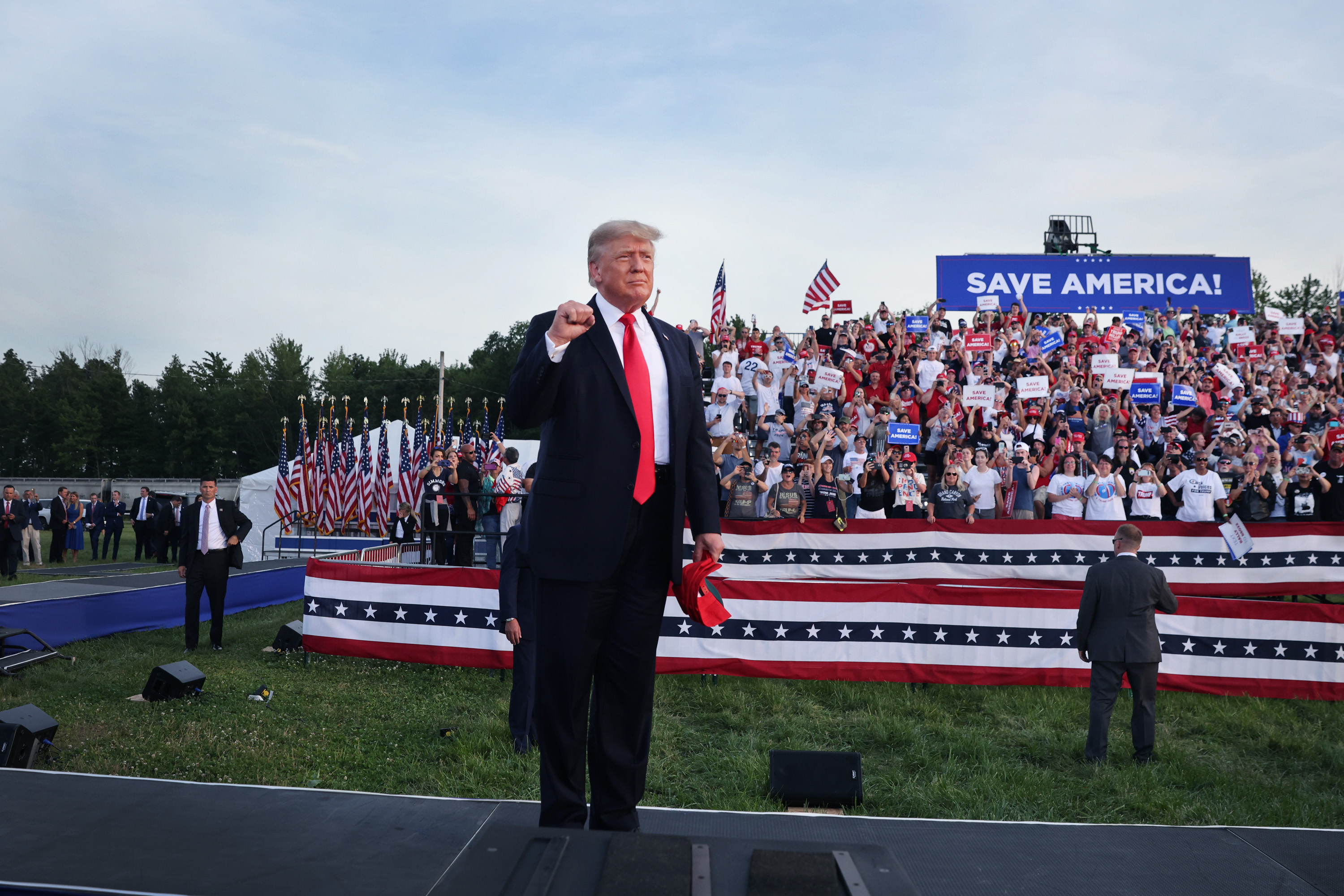 Former President Donald Trump on Saturday denounced New York prosecutors for indicting the Trump Organization and its chief financial officer in what he called a politically motivated effort "reminiscent of a communist dictatorship."
The Manhattan District Attorney's Office on Thursday indicted the Trump Organization and its CFO Allen Weisselberg with tax charges following a three-year investigation, conducted alongside New York Attorney General Letitia James , which arose from the secret payment of money. to adult film actress Stormy Daniels.
Trump dismissed the accusations in his opening remarks at the "Save America" ​​rally in Sarasota, Florida on the eve of Independence Day, the second campaign-style rally hosted by the ex-president since he left the White House in January.
"In New York, they are doing what you would see in a Third World nation. It is not for us. It is reminiscent of a Communist dictatorship targeting your political opponents," he told the crowd.
Prosecutors accused the Trump Organization and Weisselberg of engaging in a 15-year ploy to avoid taxes on $ 1.7 million in unofficial benefits that should have been reported as income. "To put it bluntly, this was a drastic and bold illegal payments program," said Carey Dunne, general counsel for Manhattan District Attorney Cyrus Vance Jr.
Trump has not been charged, nor any other company executive. The defendants have pleaded not guilty and have promised to fight the charges.
"It is unprecedented, unheard of and utterly unacceptable in America for prosecutors to run for office promising to have their political enemies," Trump continued. "What about the one in New York State? 'We're going to have Trump, I'm running.' She doesn't know anything about me, all she knows is that she's going to have me from the day she walks in. But you know people are good.
Trump is referring to James, the first woman and the first African American to be elected attorney general of New York. Throughout his 2018 campaign, James vowed to prosecute Trump on the "first day" of his term for his alleged violation of the emoluments clause.
"It's just fascist and authoritarian. People who talk about democracy are literally destroying it in front of our eyes. No one can believe the things we are witnessing," Trump told his supporters. "Four years of research, dozens and dozens of interviews, and millions of millions of dollars spent on taxpayer dollars, it has all been wasted."
"The radical left continues to seek crime and destroy lives, to break laws, to violate all principles of justice, fairness and freedom – you say it, you see it – consistently," said he added. "This is really what is called prosecutorial misconduct."
News week has contacted the Manhattan District Attorney's Office and New York Attorney General Letitia James for comment. This story will be updated with any response.